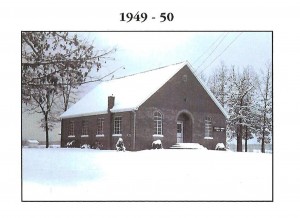 Between 1900 and 1915 various gospel preachers proclaimed God's Word in the Sampson community. These preachers included Charles Holder, Logan Gillentine, and others. These men would hold two-week meetings in the Sampson school house. During this time many obeyed the gospel.
Sometime in 1916 and 1917 several women began meeting in their homes on the first day of the week to worship. These ladies included Mrs. Helen Wheeler, Mrs. Ida Wheeler, Mrs. John White, Mrs. Rebecca Simmons, and others.
In May of 1923, W.P. Wheeler and James H. Wheeler, who were brothers, gave a tract of land to the trustees of the church. These trustees were Walter Pendergrass, Sam Simmons, and Mrs. Helen Wheeler. Soon afterwards a small wooden building was erected. At this time attendance varied from two to twenty, most being women. In fact, women usually carried on the services because no men members were present.
Several preachers came to hold summer meetings throughout those earlier years. On a few occasions some would speak of Sunday afternoon gatherings. Some of those remembered speakers include: Charles Holder, Arlie Clemmons, Slate Marsh, Brown Boyd, and others.
In the late 1940s, the congregation constructed a new brick building. This structure consisted of a larger auditorium and a full basement for classrooms. Hugh Mansfield designed the building. Mr. Virgil Wheeler supplied and cut the lumber at his mill. Charlie Wheeler, Ernest Bickford, Vick Beach, and others were instrumental in completing this building. The first service in the new building is said to be Mrs. Helen Wheeler's funeral service in September of 1950.
Many different preachers preached by appointment and for gospel meetings between 1950 and 1958. In the summer of 1958, Jim Mac Foust was employed to work full time with the congregation. He left in 1960 and was replaced by Owen Solomon and later Paul Cagle. Various ones preached by appointment until 1969 when Jim Foust was invited to return on a regular basis. At this time the congregation was served by elders: Charlie Wheeler, Ernest Bickford, and Will White and deacons: A.F. George, Herbert Evans, and Will Hart.
In 1972, an addition of five classrooms, rest rooms, and a baptistry were constructed on the main auditorium. From that time until the late 1980s the congregation grew until another addition was added in 1989. This addition consists of a larger auditorium that will accommodate 250 people. Included in this new addition were more restrooms, a nursery, and a recording room.
Jim Foust continued serving as minister until his retirement. In the time since, ministers Wally Kirby and Rick Owens have worked full time with this congregation. There have also been others who have preached by appointment between these full time ministers.
Currently the congregation has two elders: Matt Brown and Dion Brown. Working with the elders, the congregation is served by two deacons: Tim Hawn and Jack Pendergrass. Dale Barger began working as the full time minister in February of 2012. His brother Jason Barger began preaching for the congregation full time in January 2021 and continues to the present time.
This is only a brief history of the Lord's people here at Wheeler Hill. From that original group of ladies in 1916 and 1917, the congregation has seen many people added to the Lord. The names of all those who have served and worked for the Lord here are not available at this writing. It is our prayer that the Lord will continue to bless this work and through its labors many souls may be saved so that our Father in Heaven will receive glory.